12 Best Home Rowing Machine Reviews of [2022-2023]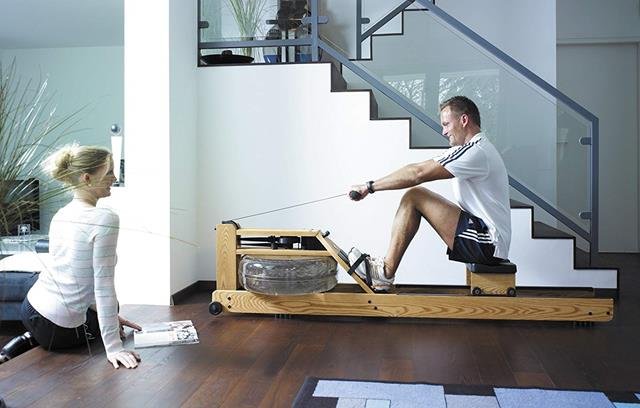 If you're looking for a challenging and effective workout, a rowing machine is a great option. It offers a hardcore full body workout in a safe, comfortable and low-impact way.
"A rowing machine is a piece of exercise equipment used to simulate the act of rowing a boat. Rowing machines are often used by people who are looking to improve their cardiovascular fitness or lose weight."
There are a variety of rowing machines available on the market, which can be broadly classified into two main types: air rowing machines and water rowing machines. Air rowing machines use a flywheel to create resistance, while water rowing machines use water to create resistance.
Most rowing machines will allow you to adjust the level of resistance, so you can make the workout as easy or as difficult as you like. Some rowing machines also have programs that you can follow, which can make your workouts more varied and interesting.
Our recommendation for the best rowing machine for home gym is Concept2 Model D.
Top 12 Best Home Rowing Machine Reviews
The Concept2 Model D Indoor Rowing Machine is the Rolls-Royce of rowing machines. It features a smooth action, a comfortable seat, and a PC-compatible software that allows you to track your progress online. The new online functions are a great motivator – you can challenge friends to virtual races or compare your performance with others from around the world.
The quality finish and build make this machine Durable – it will last for years! The PM5 Console displays a wealth of information, including distance, speed, time, and calories burned. And for even more data tracking, use the Memory card to store your workouts and performance. Tone up and slim down in the comfort of your own home with the Concept2 Model D.
You'll love how smoothly Sunny Health & Fitness SF-RW5639 operates. With 12 levels of adjustable resistance and a weight capacity of 350 lb., it accommodates anyone looking for a challenging workout. The full motion arms offer a greater range of motion for the shoulders, while the large anti-slip foot pedals with adjustable foot straps keep you stable as you work up a sweat.
It is a great low priced rowing machine – best for the budget but it has all the bells and whistles that anyone on a low budget could need. You can easily Increase or decrease the exercise intensity with an easy turn of the resistance knob. It has digital LCD displays for watching time, scan, count, and calorie. Plus, the fully padded seat and non-slip grip handlebars provide hours of comfort and support.
The new Velocity Exercise Magnetic Rower is the perfect tool for an intense cardiovascular workout. The DRM system creates friction against the aluminum frame, providing resistance and a great workout. The molded padded seat ensures that you'll stay comfortable through your entire session, while the heart rate monitor chest strap guarantees that you'll get the most out of your training. The LCD screen allows you to stay updated on typical readings: pulse rate, number of shots, the time taken, calories burned. The weight capacity of this machine is 275 pounds.
This rowing machine is best for quiet environments. If you like exercising early in the morning or at night while the kids are in bed, or maybe you want to hear the TV rather than the buzz of your equipment, you will be happy with this silent rowing machine. This best indoor rowing machine is equipped with 12 different workouts for those who like to switch up their fitness routines or want the choice to modify their own. Thanks to its delicate magnetic resistance, this magnetic rowing machine can help you get in shape or train for the real fitness by performing your stroke.
The Orbital 35-1215 is a great choice if you have a small space and would like to have a full body workout. It can hold up to 250 pounds. The pivoting footplates make mobility easier and a thick padded seat allows users to enjoy their time on the rowing machine. It is equipped with a monitor that shows the speed, the time, the number of lines, the distance, the calories burned and the kilometers traveled.
It's a compact machine with full range-of-motion rowing that mimics rowing on the water. This best budget rowing machine for home offers smooth hydraulic cylinder resistance, adjustable tension controls, thick, padded seat and pivoting foot plates. The Single button monitor of this device shows speed, time, distance, calories burned, row count, and miles rowed.
I love this rowing machine for home use. The ash wood finish is simply beautiful to look at. The steering wheel is horizontally placed "under" the machine, instead of vertically at the end which gives WaterRower a compact, discreet and beautiful appearance. I mentioned that this is a steering wheel design, and that is something that many rowing machines have in common. However, this is of a different type from our previous entry, as WaterRower gives away in his name. This uses a tank full of water, in which the steering wheel is contained.
The WaterRower comes with the S4 Monitor, a monitoring package similar to the PM5. The fact is that, although similar, it has some drawbacks. The screen is much less clear and precise, it looks a lot like a bad LCD screen. It is not as easy to read as the PM5 design. It is useful enough in its functions, it offers similar metrics, but it is simply not easy to read during the exercise, and that is a negative point. It is not a decisive factor, but it disappoints a little.
Stamina Avari rower is a programmable magnetic rowing machine that comes with a heart monitor with a chest strap. This machine is correct against the heart, so it can measure cardiovascular function and respiratory performance from the source. It has a blue backlit display that shows its performance metrics, and since the resistance of this device is not driven by its own efforts, you can adjust the resistance level by "workouts".
A magnetic device can adjust the resistance during its training routine, since the monitor can change the resistance on the fly, so to speak. This allows the PMER to store 12 different training routines and 4 routines that the user can design on their own. I like this kind of programmable routine since it allows me to "turn off" my brain a bit and simply work on the routine without stopping to make adjustments.
This First Degree Fitness Rower is an amazing workout machine. It has adjustable fluid resistance, which means you can change the resistance from MIN to MAX at the turn of a dial. And there are no dead spots – the triple bladed impeller and baffled tank internals deliver instant catch and consistent resistance throughout the whole stroke. Plus, the improved pulley system greatly increases the range of resistance whilst retaining constant tension and recoil action.
The monitor is multilevel and complete with a USB port, so you can track all your progress. It looks so unusual, with its bright primary colors and its very prominent water tank. That said, I liked the aesthetics of First Degree Fitness Water Rower. It has a different appearance, which does not apologize for being unconventional. However, with a much more robust metal frame. You can flip it and store it easily, but it is a substantial beast even in a vertical posture. This top rowing machine for home gym deserves a dedicated space. You will love the sound of this machine. Tone up your arms, abs and legs with this Newport AR Rowing Machine – it's perfect for any fitness level.
This rowing machine is an excellent option for the price. The Elite Wave Water Rower 1450 differs from the 1445 model for two main features: the heart rate sensor with chest strap and the high-end fitness monitor that synchronizes wireless with the fitness monitor. It has also made comfort improvements like adjustable-length footplates, the seat and quick-adjust foot straps.
Wave Water resistance sounds and feels like you are rowing on the water. It offers a dynamic rowing stroke with endless resistance levels. It also has textured padded rowing handle for better grip. You will love this indoor rower as it works in all major muscle groups. It is a low impact training machine. With the water resistance, the stroke feels very natural. It is silent rowing machine and the sound is relaxing. It also has a folding design for storage and comes with wheels for easy transport.
This LifeSpan rowing machine offers a very simple design; Your body does all the work of moving the wheel while you row. It is a simple design and not prone to breakdowns, lifting dust that accumulates on the wheel and does not need tight water levels. It is a very simple to assemble and put. It can be a great option for your home gym.
The LifeSpan paddler is not as quiet as the magnetic resistance models and does not have the smooth, pleasant "whistle" of a water rowing machine. However, he is still very calm, with a small, quiet "buzz" of activity while he trains. This machine is ideal for people who have joint problems and similar problems that come from excess weight. The low threshold puts you out of the race as a weight loss machine for severely overweight people, and that is a problem worth noting.
If you are looking for a water rowing machine for your home gym then check this The Water Rower Club Rowing Machine. It offers a joint-gentle training of the body musculature. With a short time interval can be trained maximum. The device can be set up completely space saving. It looks visually harmonious because it is available in different wood decors. These include, for example, oak, ash or cherry. The device can thus be optically easily integrated into the existing device without disturbing. The materials used are very robust and high quality.
It is designed with double rail and S4 engine with effective water resistance. This allows the gentle and healthy training of the body. The scope of delivery includes a performance monitor, a PC connection cable and a water pump. It is equipped with a water tank and has ergonomically shaped water paddles. This ensures a jerk-free resistance. In addition, the paddles are shaped so that maximum water intake is ensured.
The Concept 2 Model E Rowing Machine is a slight adaptation of the Concept2 Model D rower, features the same PM5 Performance Monitor, adjustable foot-rests, ergonomically designed handles, and efficient flywheel design. One of the key differences is the Model E's raised 20″ seat height which is 6″ above the Model D position. It will help the athletes with mobility or balance concerns to get on and off the machine with less effort.
Both professionals and beginners can use this machine who want to carry out a complete, safe training. This best air rower has a strong resistance to air and ANT wireless technology with Bluetooth Smart. This machine mounts very easily and does not require much time or special skills. The display is powered by a USB port, which is compatible with ANT and Garmin Polar cardiac belts and with Bluetooth Smart technology. It is a great investment that lasts a long time- highly recommended rowing machine.
Sunny Health and Fitness Rowing machine is the most popular workout machine. Its versatile outline permits you to work all your body muscles at once, in a low or high impact workout, depending on one's preferences. The magnetic resistance comprised of 8 cycles can easily modify the intensity of any exercise with a simple knob switch.
Its adjustable design allows you to safely exercise with the burn placed on your tights, biceps and lower body part. An electronic exercise LCD monitor will display your time, distance, calories, heart rate informing you about your progress. The adjustable, oversized, non-slip pedals will make your exercise even more comfortable providing excellent support for your feet. Your rowing routine will seem effortless with padded handles carrying extra comfort. The Rowing's machine cushion seat is designed to prevent pain or discomfort. Snug fit, yet firm enough to stay in place even during an intense workout.
Things To Consider For The Best Rowing Machine For Home Gym
Resistance:
Above you will see different types of resistance of a rower that include air (wind from the spinning flywheel that creates drag), magnetic (electromagnets slow the erg's metal flywheel),
hydraulic (resistance is created by hydraulic fluid in a piston or two that is connected to the erg's handles), and water (the flywheel pushes against water in a tank). Choose the right resistance that better suits you for your fitness goal.
Maximum user weight capacity:
Different rower device provides different weight capacity but most the rower can accommodate 220 to 265 pounds or more.
Size:
The rowing machine needs to be large enough to make powerful legs and maintain proper rowing form, but it also has to be small enough to fit into your workout space.
Fold-ability:
Some indoor rowers like magnetic and hydraulic resistance rowing machine usually fold up for easy storage but some other rowing equipment like air and water resistance rower usually don't fold up for storage.
Seat:
The seat of the rowing machine should be contoured, large and comfortable so that you can keep your backside comfortably and maintain proper form,
Computer Monitor:
While rowing, computer monitor tracks information like distance, speed, duration, and/or calories burned, etc.
Types of Rowing Machines
Despite the relative simplicity of the rowing equipment, there is considerable variation between the different types. Below are the most common types.
1. Hydraulic rowing machines
These are by far the most popular type of indoor rower on the market, mainly because they are cheap and easy to fold in a closet or under a bed. If you have an apartment, they are even more ideal.
As the name implies, these rowing machines are operated by a set of hydraulic pistons on each side that allows the user to pull the handles towards themselves. Although it is classified as a rowing machine, it is not a true representation, as there is little or no leg movement involved.
While these are excellent if you're in a hurry, they do not provide the full range of motion you'd want in a traditional rowing machine. Nor will it provide you with full synchronization, which means that your legs and arms do not necessarily work in sync.
For that reason, unless cost or space are important considerations, it is better to consider a higher model.
2. Magnetic rowing machine
If you are looking for a best indoor rower that offers a decent amount of resistance but does not want to spend the money needed on a traditional rowing machine, magnetic resistance may be the way to go. These machines work the same as other machines but offer a great advantage: total silence.
Magnetic rowing machine have magnets that are built into the flywheel to generate resistance, instead of air or water like other machines. Since there is no friction involved and minimal parts moving, the magnetic rowing machine provides virtually silent training.
3. Air Rowing Machine
These became important in the 1980's as a way to provide the benefits of water-based rowing to a home audience. Instead of magnets, air rowers use a set of internal ruffles that rotate in front of each other and create resistance. The faster and harder you pull the wheel, the more resistance is created and the harder the training.
Air rowers offer a type of training very similar to traditional rowers, but they can be considerably noisier than other machines. It has the ability to automatically adjust to your stroke rate, so you can increase and decrease the speed as desired, and with minimal friction, you must also have a long life with minimal wear.
4. Water rower
If you are looking for the best rowing session, regardless of costs, space or noise considerations, there is no substitute for a true rower of water. Instead of air or magnets, a true water resistance is used to generate the training; Ironically, aquatic rowers are some of the most recent innovations in the line of rowing machines.
The water rowers are built with wooden or metal frames, which makes them much more attractive than other options. They are also almost silent since there is practically no friction either; the only sound is the "swooshing" of water. Many people love this silent feature of this water rower machine.
The main cons of a paddle are two the cost and size. Water rowing machine are basically costly than any other rowing machine on the market and also occupy most of the space in a room.
So unless you have space really dedicated to a gym area at home, it might not be a good option.
Benefits of Rowing Machines
Unless you have been on a rowing machine and feel that the exhaustion starts almost immediately, you probably are not aware of the full effects of this machine. Below are some top rowing machine benefits.
1. Full body training
Treadmills, stationary bicycles, Stairmasters, and machines of that type generally only work with the legs; Very few engage their core or their upper body at all.
With a rowing machine, most of the training is within the muscles of the leg, but a considerable amount of energy is also consumed through the arms and shoulders.
2. Muscular and resistance construction
Not only will a rowing machine work your body, but also your cardiovascular system will get in shape, making it the ideal equipment for a good physical condition.
3. Correction of the posture
To exercise with the rowing machine correctly, you must maintain the proper form. In this way, spending time on a rowing machine will help with your general stance outside the machine as well.
4. Low impact
Unlike some fitness machines, rowing will not put unnecessary stress on your joints, making it perfect for older people.
Final Verdict:
Fitness experts and health professionals agree that rowing machine provides the ideal workout training possible. This machine will allow you to target the vast majority of your muscle groups and give them training as hard and challenging as they want. On the best rowing machine models, you can track your progress and see how your divisions are improving.
Compared to a treadmill machine, the rowing machine workouts works at most of your body parts. It will really affect the shoulders, the quadriceps, the core, the hamstrings, the arms, the buttocks, and the back in an effective way while having a low impact.
Thus, rowing on a good rowing machine reduces the stress on the joints and give you great comfort and makes you relax. Therefore, you should choose that rowing machine, which fits your budget and adapts to your body, heart, muscles, and mind. And, we think Concept2 Model D will be the best choice for you as the best rowing machine for home use.